Guest blog: Old-fashioned cookbooks or online recipe sites?
(Read article summary)
Why one cook prefers to work with old-style cookbooks.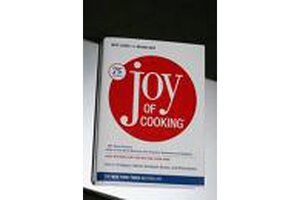 One of the advantages of online recipe sites, as Publishers Weekly notes, is the vast ghostly army of reviewers who rate given recipes and give advice on how to tweak them.
It's an advantage that printed cookbooks don't have – hence a new social networking site, Cookbooker.com, trying to encourage users to list the cookbooks they own and rate individual recipes. It's an interesting, inside-out twist on the tension between print and online.
If you are thinking about buying "Barefoot Contessa Back to Basics," for instance, one of the books most owned by Cookbooker members, you can see reviews of four recipes, all given four or five stars (out of five). Eight people weighed in with reviews of recipes from "The Moosewood Cookbook," all four or five stars except for the 3-star stuffed squash with apple filling (where the reviewer did honestly note that, "Truth is, I don't like stuffed squash very much, and this only seemed average to me.")
PW noted that that the site has a few hundred registered members so far, and that its success "will, like most of the Web, [depend] largely on the masses joining in."
"Mark Bittman's "How to Cook Everything" features some 2,000 recipes, but only 23 of them appear on Cookbooker. There are no recipes reviewed from the new and popular "Gourmet Today," "Momofuku," or "The Pioneer Woman Cooks"; other timely titles, such as "So Easy" by Ellie Krieger and "My New Orleans" by John Besh aren't even listed (though it's easy for users to add them)," said the article.
---