From book to film and on to the Oscars
(Read article summary)
Four of this year's 10 Oscar nominees for best film come from books.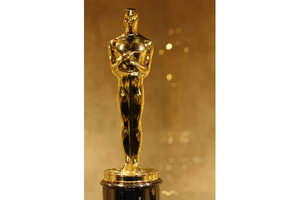 Hollywood has always owed a large debt to the skills of those who tell their stories in the shape of books. In any given year a fair number of the best US films were originally books. This year – when 10 films have been nominated for the best picture award – four of those come from books. They are "The Blind Side," "An Education," "Precious," and "Up in the Air." (Last year three of the five nominees – "The Curious Case of Benjamin Button," "Slumdog Millionaire," and "The Reader" – were inspired by novels.)
This year some of those books have had to migrate a bit of distance to transform themselves into films. Take "The Blind Side: Evolution of a Game" by Michael Lewis, for instance. It was a nonfiction title published in 2006, the kind of book that critics like to call "literary journalism" and it was an analysis of the changing nature of football as much as it is the story of a remarkable player adopted by an unlikely family.
"An Education" comes from a memoir published last year by journalist Lynn Barber, who told the story of how, in 1960, at the age of 16, she was swept off her feet by a charming con man.
---