Is Michelle Obama packing the White House with socialist literature? No way!
(Read article summary)
A blogger on a tour jumped to some wrong conclusions about the contents of the White House library.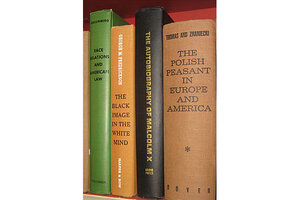 Jay Tamboli's Flickr page
On a trip to Washington, conservative talk show host and blogger Rob Port took a tour of the White House, and while there he saw something that he found alarming. On a shelf in the White House library he spied two books titled "The American Socialist Movement, 1897-1912" and "The Socialist Party of America."
Port asked the tour guide who stocked the White House library and heard – or thought he heard – that it was the job of the first lady. So, once back home in North Dakota, he posted a photo of the books with a blog titled: "Photo Evidence: Michelle Obama Keeps Socialist Books in the White House Library."
"By itself, [the placement of the books in the library] wouldn't be that big of a deal," Port admitted. "But in the context of Anita Dunn saying Chairman Mao is her favorite political philosopher? In the context of the Mao ornament on the White House Christmas tree? In the context of Obama's economic policies? Well, I'll let you make your own call."
---