What Karl Rove reveals in "Courage and Consequence"
(Read article summary)
Reviewers are finding few bombshells in Karl Rove's "Courage and Consquence." But there are a couple of surprises.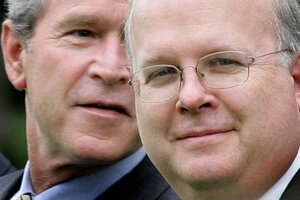 Ron Edmonds/AP/File
Karl Rove's memoir, "Courage and Consequence," was released today, but due to a press leak last week most readers already knew that George W. Bush's former political strategist served up no major revelations. However, say some reviewers, there are still a few surprises.
Perhaps the biggest one, according to Steve Levingston, who reviewed the book for The Washington Post, is how personal Rove got. "In unexpectedly tender prose, Rove tells a poignant family story, which includes his father's long absences, his parents' divorce and his mother's suicide," Levingston writes. "Rove addresses far more of his personal life than one would expect from a man who so effectively controlled information in the White House."
Rove also deals with questions about the sexual orientation of his adoptive father. (Rove was 19 before he learned that the man he thought of as his father was not his biological parent.) "To this day, I have no idea if my father was gay," he writes. "And, frankly, I don't care. He was my father, with whom I had a wonderful relationship and whom I loved deeply."
---