Harry Potter theme park opening date sparks a bit of controversy
(Read article summary)
Universal Orlando's "World of Harry Potter" will open on June 18 – but that's not soon enough for some fans.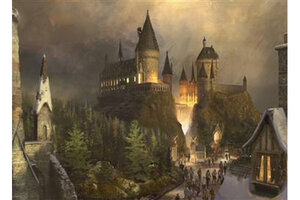 To say that Harry Potter fans have been eagerly awaiting an opening date for Universal Orlando's "World of Harry Potter" theme park would be an understatement. Some have been thinking of little else since the project was first announced last year. But now that they finally have it – Universal said yesterday that the Florida park will open on June 18 – not everyone is happy.
"When I think of spring, June does not come into my head," groused one Harry Potter fan in response to a blog about the park's opening date. "All news results and advertisements had said that this park would be opening in spring." "I couldn't agree more," added another, who planned to start a facebook group called JUNE 18TH IS NOT SPRING,VACATION RUINED, THANKS UNIVERSAL STUDIOS FLORIDA.
Other fans proclaimed themselves confused. Why, they wondered, if June 18 is the opening date, had Universal begun selling vacation packages last month with Wizarding World benefits starting May 28?
Visitors who purchased those packages will receive everything that was promised, assured a Universal spokesman. "Theme parks typically have days or weeks of soft openings before officially launching," speculated the FloridaTimes-Union. "Universal would not comment on whether that will be the case with Wizarding World."
The Times-Union also reported, after taking a media tour of the park earlier this week, that "construction is in full force, with dozens of painters and carpenters completing the snow-capped Hogsmeade village and the iconic Hogwarts castle."
---