Google Editions will enter the e-book race
(Read article summary)
Google Editions, Google's e-book store, will be up and running sometime this summer, says the company.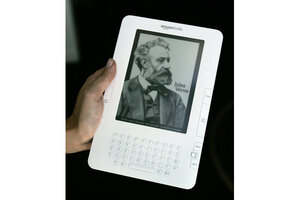 Dani Cardona/Reuters
Would you rather read an e-book on a Kindle, an iPad, or your cellphone? Google Editions doesn't really care. They're hoping for your business, regardless of which device you favor. And that flexibility seems likely to win them a big slice of the e-book pie.
It is widely known that Google has been scanning books in earnest for the last few years and has amassed a catalog of 12 million in- and out-of-print titles. Yesterday the company announced that in late June or July it will enter the e-book retailing market through its Google Editions venture.
The company's "vision is to be able to access books in a device agnostic way," says company spokesperson Gabriel Sticker, pointing out that this is "a different approach to what most readers today have."
This can only be good news for readers. Google Editions will allow readers to read books from a Web browser – meaning that it doesn't matter what kind of device they prefer to read on. The company could also, as The Wall Street Journal points out, eventually choose to "build software to optimize reading on certain devices like an iPhone or iPad" – although it has yet to announce "any specific plans" to do so.
Google Editions may prove to be good news for booksellers as well. The Journal notes that Google Editions "will also allow book retailers – even independent shops – to sell Google Editions on their own sites, giving partners the bulk of the revenue."
---