In honor of Children's Book Week: Embrace your inner young reader
(Read article summary)
"No more smuggling, no more shame," says one adult reader confessing to her passion for children's books.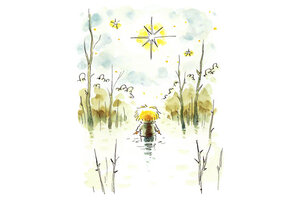 Illustration from "The North Star" by Peter H. Reynolds
Children's Book Week 2010 is being celebrated from May 10-16. Could there be a better time to confess that you'd really rather read a book for kids?
If you follow book news, you already know that there are plenty of readers who either forsake adult lit for books aimed at young readers – or simply wish that they could. Rebecca Serle's piece on Huffington Post yesterday was just one more profession of kiddie-book love. And she explains quite succinctly what it was that turned her from the "serious" and "challenging" world of adult lit to that of kid's books: joy.
"Because the true secret to writing is not brilliance or talent or even commitment – albeit they're important," she writes. "The secret to writing is joy. And we could all, even us grown ups, use a little more of that."
Serle is far from alone. "No more smuggling. No more shame," wrote one Midwestern reader as she came out in the open and joined a children's book club at her local bookstore.
Or what about the Canadian reader who confessed to a journalist that she had been known to wrap teen novels "inside an issue of The Economist while reading in public"?
---