5 mysteries that sizzle make cool summer reading
(Read article summary)
Ready to start your summer reading list? Here are five gripping mysteries set in fascinating locales.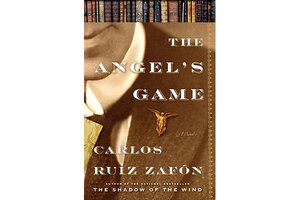 It's never too soon to start thinking about summer reading. Here at the Monitor, we're putting the finishing touches on our Summer Readers' Guide, which will appear in the Monitor's weekly print edition on May 24.
Of course we'll be looking at the new 2010 releases, but for readers looking for a sure bet (already on the shelves and available in paperback), we've also assembled a few lists of recent "classics" – really good reads by genre. Below is our list of five particularly gripping mystery stories. (And it doesn't hurt that each is set in a pretty fascinating locale.)
Here are our five top recent mystery picks:
1. "The Angel's Game," by Carlos Ruiz Zafón (Anchor, 544 pp., $15.95). From a writer who "specializes in bookworm fantasies" comes a "twisty, sarcastic" thriller set in Barcelona. (Monitor review 7/10/09)
2. "Fieldwork," by Mischa Berlinski (Picador, 356 pp., $14). "Your hands may as well be handcuffed to" this "anthropological odyssey" set in "encrusted jungles in Thailand." (Monitor review 3/9/07)
---
Follow Stories Like This
Get the Monitor stories you care about delivered to your inbox.