Movie critic Roger Ebert prepares to write a memoir
(Read article summary)
Ebert's blogs hint at the nature of his upcoming memoir.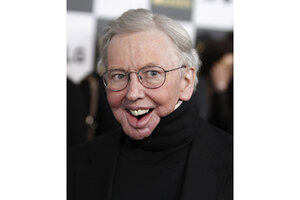 Matt Sayles/AP
The first of 1,282 comments on one of Roger Ebert's blog entries summed it up well: "Mr. Ebert, you may be a 'movie critic,' but you're also a very good writer / essayist."
We've seen plenty of evidence of that in Ebert's striking blog entries and even an engaging Twitter feed in the years since he lost his voice and a portion of his jaw to cancer. Hopefully we'll see even more now that he's working on a memoir slated for publication next year.
A piece in The Chicago Sun-Times, where Ebert has written for decades, said (the book "will cover everything from his battle with thyroid cancer to his friendship with Gene Siskel, his fellow critic and "Siskel and Ebert at the Movies" co-host who died in 1999." Ebert didn't give up details, confirming that he's writing the book but telling the writer "I subscribe to the old theatrical maxim: Don't leave it in rehearsal."
Ebert was once best known as a thumbs-up-thumbs-down TV film critic, but he was a writer long before he was a personality, reviewing movies long enough to have praised "The Graduate" in print in its original 1967 release.
Online, he's still considering movie releases from "Iron Man" to Cannes, but also eloquently takes on the bigger topics of his own life – and life in general. As a recent Webby award announcement said, he has "raised the bar for the level of poignancy, thoughtfulness and critique one can achieve on the Web."
---