For Father's Day: 10 books about fatherhood
(Read article summary)
Still looking for a Father's Day gift? Try one of these books.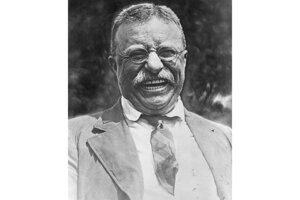 There are as many kinds of good books for Father's Day as there are fathers. Many lists of recommended books intended as gifts for dads lean heavily on sports titles. Some go for adventure stories. Others focus on politics.
This list, however, is a selection of books about fathers. The men featured in these books were not all good fathers. (In fact, John Clinch's re-creation of Huck Finn's Pap in his novel "Finn" must qualify as a low-point in the annals of fatherhood.) And not all of the men featured in these books were actually biological fathers. (The protagonist of Dave King's novel "The Ha-Ha" is a Vietnam vet who must learn to be a father when asked to care for a 9-year-old boy.)
Some of them are fictional portraits and others are taken from real life (journalists Ariel Sabar and Tom Bissell both write about journeys they took as adults with their fathers). Some are historic figures (Theodore Roosevelt and Bronson Alcott) while others (the father and uncle of Edwige Danticat) were heroes only in their own spheres.
But all of the books below, in one way or another, focus on what it means to be a father. We've printed this list before, but repeat it now as we inch closer to Father's Day. If you know a father figure of any kind who might enjoy a thoughtful read about male parenthood, all of these titles are excellent candidates.
---