A newer, cheaper Kindle DX – will it matter?
(Read article summary)
The latest entrant to the crowded e-reader market is an improved and less expensive Kindle DX.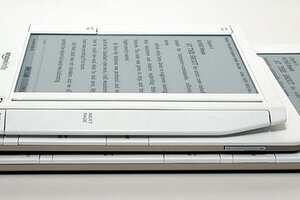 Jon ShakataGaNai Davis/commons.wikimedia.org
It seems you can't turn on your computer these days without reading about a new entrant to the burgeoning e-reader market. Today's newest contender: a cheaper, snazzier version of Amazon's Kindle DX. The new version retails for $379, compared with $489 for last year's version. The retooled Kindle DX boasts a new graphite enclosure, an all new electronic ink display with 50 percent better contrast, and global 3G service for downloading e-books.
Amazon is taking orders now and the device is scheduled to ship on July 7.
Will it matter? In the crowded e-reader market will much notice be given to yet another option?
The new, improved Kindle DX is certainly not going to attract the bargain shoppers. They already are choosing among Amazon's smaller Kindle (price down to $189 from $259), the Barnes & Noble original Nook (price dropped to $199), a new scaled-back version of the Nook that will sell for $149, Borders' Kobo ($149), and – at the very bottom of the price ladder – Borders' Libre ($119.99).
---