Profiles in Courage: Chats with independent bookstore owners, Part III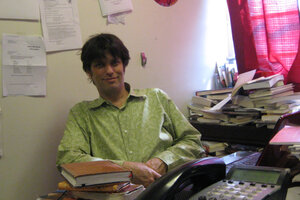 Amie Mechler-Hickson
[What do typesetters, shepherds, and independent bookstore owners have in common? That's not the setup for a bad joke – just a recognition that many traditional professions are under pressure these days, not the least of them the business of owning and operating your own bookstore. Facing the pressures of heavy competition from chains with deep pockets, a hesitant economy, and – most recently – assault from the likes of Kindle and the iPad, it is perhaps not surprising that membership in the American Booksellers Association has dropped almost 50 percent over the past 10 years (from about 2,700 members in 2000 to about 1,400 today). Over the course of the summer, the Monitor will be checking in with some of America's most beloved neighborhood booksellers to see how they are surviving or – occasionally – even thriving, in difficult times.]
When the Harry W. Schwartz Bookshop on Downer Avenue in downtown Milwaukee – in business since 1927 – shut its doors, Daniel Goldin didn't grieve. He reopened the store as The Boswell Book Company. As Schwartz's longtime book buyer, Goldin knew the business – and he knew it well enough to understand how large a gamble he was taking. Goldin recently took a few minutes to talk with Monitor books editor Marjorie Kehe about life today as an independent bookseller.
---
Follow Stories Like This
Get the Monitor stories you care about delivered to your inbox.