Profiles in Courage: Chats with independent bookstore owners, Part IV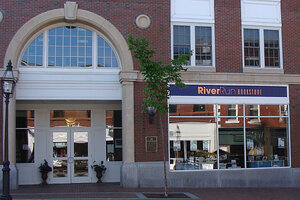 Tom Holbrook
[What do typesetters, shepherds, and independent bookstore owners have in common? That's not the setup for a bad joke – just a recognition that many traditional professions are under pressure these days, not the least of them the business of owning and operating your own bookstore. Facing the pressures of heavy competition from chains with deep pockets, a hesitant economy, and – most recently – assault from the likes of Kindle and the iPad, it is perhaps not surprising that membership in the American Booksellers Association has dropped almost 50 percent over the past 10 years (from about 2,700 members in 2000 to about 1,400 today). Over the course of the summer, the Monitor will be checking in with some of America's most beloved neighborhood booksellers to see how they are surviving or – occasionally – even thriving, in difficult times.]
Tom Holbrook opened RiverRun Books in Portsmouth, N.H., in 2002. At the time, the town was in the midst of a revival. Downtown real estate prices were heading up as baby boomers and others were finding the small city a great place to live and shop. The Civil War-era music hall around the corner was reopening as a live concert and lecture venue. An independent bookstore seemed a natural fit. Holbrook took a few moments to talk with Monitor books editor Marjorie Kehe about his eight years in the business.
---
Follow Stories Like This
Get the Monitor stories you care about delivered to your inbox.