5 great books about obscure presidents
(Read article summary)
The lives of our worst presidents make surprisingly good reading.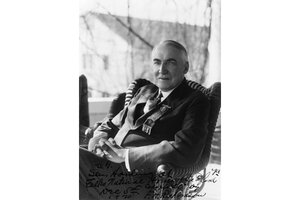 Oh the indignity of being an almost-forgotten chief executive of these United States.
For a few years, you held the highest post in the land. And now your name is barely on anyone's tongue unless they're engaged in a round of history trivia.
Sure, there may be a Pierce County here or a McKinley Middle School there. But is your face on a coin? Or your name in the title of a best-selling book?
Sadly, no.
But it turns out that obscurity doesn't guarantee that the members of the Ex-Presidents Society are crashing bores. Some of them are pretty darned interesting. To prove it, here are five great books about presidents you've barely ever heard of.
1. "The Dark Horse: The Surprise Election and Political Murder of President James A. Garfield," by Kenneth D. Ackerman (2003).
I've seen a photograph of President James Garfield that shows him with a huge grin as he dandles a young child on his knee. He looks like a man who could reveal pure delight in front of a camera at a time when that sort of thing was frowned upon (possibly because everyone had bad teeth).
Garfield didn't have much reason to be delighted during his brief term as president. He might have thought he barely belonged there in the first place, considering that he was the product of a compromise on the 36th ballot (36th!) of the Republican National Convention.
Garfield was only in office for four months before being shot by an angry office seeker; he suffered immensely for months, in part due to incredibly botched medical care.
"Dark Horse" expertly tracks the political players of the time and probes the warped mind of the assassin, a man who transformed himself from pest to killer.
---