Five books to read after checking the egg recall list
(Read article summary)
Here are five books that help to place the egg recall in context.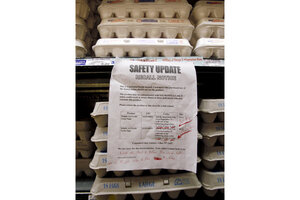 Reed Saxon/AP
Here we go again. The recent recall of some 450 million potentially tainted eggs looks to be another event that opens new eyes to the quandaries of our modern food system. There's no real silver lining to an issue as potentially deadly as salmonella poisoning, but it never hurts to get people thinking and reading about how our food supply can become contaminated on such a massive scale.
After checking the eggs in your fridge against this recall list, sit down with a book from one of these authors who could (but probably wouldn't) say they saw this coming. Their books take in politics, business, health, and science as well as food safety, but – as you'll see – those things go together like whites and yolks. And, for a shorter read, there's always the Center for Disease Control's recommendation list for safe egg consumption.
1. "What to Eat" or "Safe Food," by Marion Nestle: Nestle, a professor in the Department of Nutrition, Food Studies, and Public Health at New York University, clearly explains the intersection between policy, politics, and the plate, delivering practical advice on every corner of the grocery store. (The sort of sweetened yogurt most of us eat? It's a dessert, she alerts us, not a health food.) She speaks her mind, always backing it with solid evidence.
---