175 Years Ago, an Epic Case of Flimflammery (Plus Man-Bats)
(Read article summary)
New York City got lost in space 175 years ago this week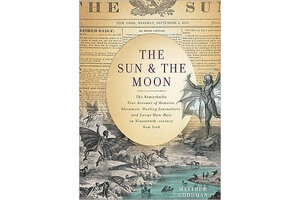 In August 1835, a local newspaper declared that a famed British astronomer had discovered life on the moon. And not just any old life: fantastic creatures that did fantastic things just a couple of hundred thousand miles away.
Countless readers fell for the grand hoax, which wasn't actually meant to fool anyone. In his 2008 book, author Matthew Goodman tells the story of this whopper of a tall tale.
To commemorate the anniversary of this epic case of flimflammery, I asked Goodman about what he discovered while researching "The Sun and the Moon: The Remarkable True Account of Hoaxers, Showmen, Dueling Journalists, and Lunar Man-Bats in Nineteenth-Century New York."
Q: So what actually happened in New York City in August 1835?
A: The New York Sun, the first of the so-called penny papers – the first paper that was directed not at the elite of the city but at average working people – published a series of articles that claimed life had been discovered on the moon by means of this supposedly powerful new telescope. It had allegedly been invented by the great British astronomer Sir John Herschel.
Over the course of the articles, the discoveries on the moon became ever more wondrous and exciting. Initially, there were bison and sheep on the moon, but as time went on the astronomers were said to have discovered ever more complicated creatures: unicorns and beavers that walked on their hind legs and discovered the secret of fire.
The series caused a huge sensation in New York. It was done with versimilitude and a tremendous amount of scientific detail. Herschel was a real astronomer, the most famous in the world, who was conveniently thousands of miles away in South Africa.
---
Follow Stories Like This
Get the Monitor stories you care about delivered to your inbox.