Interview with China Miéville, author of 2010 Hugo Award-winner "The City & The City"
(Read article summary)
China Miéville talks about "The City & The City," his sci-fi/fantasy/detective novel which shares the 2010 Hugo Award for best novel.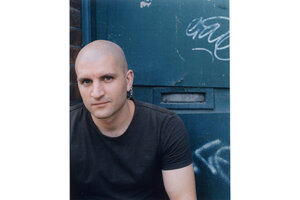 Kate Eshelby
Talk about genre-busting: When a classy, classic detective novel with heavy Eastern European noir overtones is set in a pair of overlapping city states whose citizens – for political reasons – must learn to "unsee" one other, what label would you apply? Fantasy? Crime? Sci-fi? Poli sci? Pick one and/or mix and match?
The judges behind the prestigious Hugo Awards for the year's best best science fiction or fantasy work were obviously eager to claim The City & The City by British writer China Miéville as one of their own. Earlier this week they named "The City & The City" (in a tie with Paolo Bacigalupi's "The Windup Girl") as recipient of the 2010 Hugo award for best novel. Miéville talked with Monitor book editor Marjorie Kehe about "The City & The City."
How does it feel to win a big prize like the Hugo Award? Does it change anything?
Does it make you feel different about the book? No – except that you're aware that people are looking at it differently. It certainly doesn't make me go back and think, "Oh maybe this book is better than I thought" or whatever. But it certainly makes a difference in other ways. The thing about prizes is that you can be quite cynical about them and quite aware of how contingent and subjective they are, and yet still be quite moved to have received them, especially when it's one that's part of your field and something that you grew up with and something that meant a lot to you. When I was a kid I didn't exactly know what the Hugo Award was but I did know that it was sort of this very opaque, glamorous thing that some of the writers that I loved best had on the covers of their books so [in that sense] it means a great deal.
---