Christine O'Donnell and Tolkien: the strange place where politics meets literature
(Read article summary)
Christine O'Donnell's praise for Tolkien subjects her to scorn from Maureen Dowd.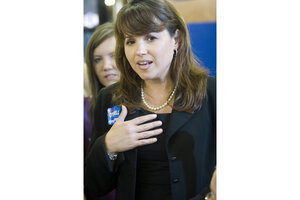 Jessica Kourkonis/AP
"Tea party" favorite Christine O'Donnell has come under every kind of scrutiny since winning the Delaware senatorial primary race last week. Her finances, education, and mental stability have been questioned, as have her views on witchcraft, adultery, psychics, homosexuality, and liberal Republicans. And now we can add her pronouncements on the writing of J.R. Tolkien to the list of controversial topics.
A 2003 video clip of Christine O'Donnell has surfaced. It shows her leading a discussion on the role of women in J.R.R. Tolkien's "Lord of the Rings" trilogy on C-SPAN.
On the video, O'Donnell praises Tolkien, saying that he "strikes a very good balance between men and women and the extreme attitudes of femininity." She also analyzes her own compatibility with the female types presented by Tolkien, saying, "Look at the significance that he gives to Eowyn, the Lady of Rohan. She was a warrior spirit and, to me, that's who I love. I mean, I aspire to be soft and gentle like Arwen, but realistically, I'm a fighter, like Eowyn."
The comments were enough to provoke scorn from New York Times columnist Maureen Dowd. "Christine O'Donnell is in a fantasy world," Down wrote. "Literally." (Dowd concluded this not only from O'Donnell's remarks about Tolkien but from her invocation of C.S. Lewis and his world of Narnia at last week's Values Voter Summit.)
---