Classic review: Harry Potter and the Deathly Hallows
(Read article summary)
What better way to prepare for the movie than to read the book again?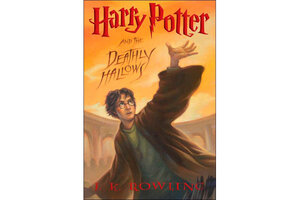 [This review from the Monitor's archives originally ran on July 23, 2007.] In the end, no one plays Quidditch.
That's about the only spoiler I'm willing to reveal about the final chapter in "Harry Potter and the Deathly Hallows," Book 7 and the close of J.K. Rowling's wonderfully entertaining series. If the review seems a little vague as a result, well, tough. I'm not ruining this for fans who have waited 10 years to learn the outcome of the final showdown between the Boy Who Lived and He-Who-Must-Not-Be-Named, and wanted to savor the last time they would ever pick up a new "Harry Potter" book.
Much has been made of whether the books represent cultural infantilism on a mass scale, with some august personages arguing that not only are they not art, they're bad for literature. (I'm guessing Harold Bloom has never read the "Gossip Girl" series.)
While I don't personally believe Harry Potter represents the acme of children's literature, I've had an absolute blast reading the novels and thoroughly enjoyed watching a high-tech generation fall in love with something as old-fashioned and out of date as a book. Cracking open a cover and being so transported to new worlds that I wasn't aware of turning pages was one of my greatest pleasures growing up.
---