Figment.com picks up where Facebook leaves off
(Read article summary)
Figment.com gives teen writers a place to strut their stuff (and maybe even find an agent).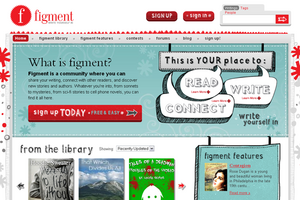 Out: Banging out manuscripts on a typewriter, dispatching them to the all-mighty publisher, and then waiting on pins and needles to see if you've won the literary lottery.
In: Tapping out a short story on your cell phone/PDA/laptop, posting it online, swapping feedback, tips, and "fave" books with a virtual community of aspiring writers and literati-in-training. And oh yeah, maybe you'll be discovered by a publishing agent.
That's what Figment.com hopes to be, "a sort of literary Facebook for the teenage set."
Inspired by the success of the very young, hip cell phone novel (fiction composed on mobile devices), Figment.com is the invention of two prominent editors hoping to create a "social network for young-adult fiction."
Jacob Lewis, former managing editor of The New Yorker, and Dana Goodyear, a current staff writer for the magazine, got the idea for the site from a 2008 New Yorker article Ms. Goodyear wrote on cell phone novels composed by young Japanese women, according to The New York Times.
Figment.com launched Monday with 4,000 registered users and more than 3,000 works posted on the site. The site itself is an inviting space, a clean white page decorated with spunky red and gray doodles and friendly "sketched" icons instructing visitors that "This is your place to Read, Write, Connect."
---