Lisbeth Salander and Pippi Longstocking: a literary lineage
(Read article summary)
Is Lisbeth Salander the literary descendant of Pippi Longstocking – or is she closer to Anne of Green Gables?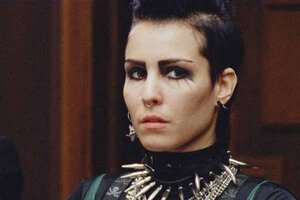 Courtesy of Music Box
Finally, I've joined the crowds tearing through Stieg Larsson's "Millennium" trilogy. As a fan of children's books as well as grown-up thrillers, I had been especially curious about heroine Lisbeth Salander, frequently described as a grown-up Pippi Longstocking.
The books? A thrill a minute.
Lisbeth as Pippi? Not on my pigtails. I'd be less bemused if people went around comparing hero-journalist Mikael Blomkvist to Frank and Joe Hardy.
Larsson created Salander after thinking over a grown-up Pippi, according to his official site, "a dysfunctional girl, probably with attention deficit disorder who would have had a hard time finding a regular place in the "normal society." Larsson strewed a few tributes to the idea (and to author Astrid Lindgren) throughout the books, as when Salander's nameplate reads "V. Kulla" – Villa Villekulla, Pippi's home.
---