J.K. Rowling cleared of plagiarism charges in the US
(Read article summary)
'Harry Potter' author J.K. Rowling was cleared of plagiarism charges when a judge found that the plaintiff's case 'strains credulity.'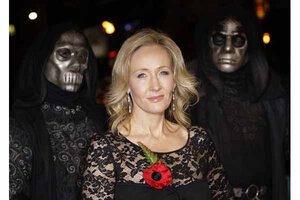 Joel Ryan/AP
Did "Harry Potter" author J.K. Rowling steal key wizardry concepts from another writer?
No, said US District Judge Shira Scheindlin in New York on Thursday. The US court dismissed the suit brought by the estate of author Adrian Jacobs against Scholastic, Rowling's US publisher, saying that Rowling's and Jacobs's books were too different to allow for any credible claim of plagiarism.
"The contrast between the total concept and feel of the works is so stark that any serious comparison of the two strains credulity," wrote Scheindlin.
Some observers were surprised last October when a British judge refused to dismiss Jacobs's lawsuit, which charged that "Harry Potter" author J.K. Rowling stole concepts – wizard contests, wizard prisons, wizard hospitals, and wizard colleges – for "Harry Potter" Book No. 4 ("Harry Potter and the Goblet of Fire") from Jacobs's 1987 book "'The Adventures of Willy the Wizard."
---