Jared Lee Loughner: seeking insight from his reading list
(Read article summary)
Jared Lee Loughner's favorite books include many with anti-government themes.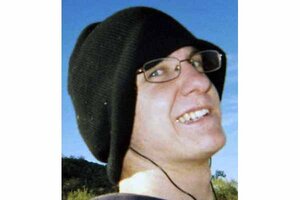 Do the books that Jared Lee Loughner was reading tell us anything useful about his state of mind?
"Tell me what you eat and I will tell you what you are," the great French lawyer and gastronome Anthelme Brillat-Savarin once said.
In other words, you are what you eat, Brillat-Savarin posited. Are we also what we read? Can an individual's bookshelf offer a glimpse into his mind? Are we a reflection of what we read – or vice versa?
Investigators, legal aid workers, counselors, and the media are considering these questions as they pore over a revealing piece of evidence in Saturday's grisly Arizona shooting spree: suspected shooter Jared Lee Loughner's reading list.
Loughner's YouTube profile page includes a long list of his favorite books. On the list are "Animal Farm," "Brave New World," "The Wizard Of Oz," "Aesop Fables," "The Odyssey," "Alice Adventures Into Wonderland," "Fahrenheit 451," "Peter Pan," "To Kill A Mockingbird," "We The Living," "Phantom Toll Booth," "One Flew Over The Cuckoo's Nest," "Pulp," "Through The Looking Glass," "The Communist Manifesto," "Siddhartha," "The Old Man And The Sea," "Gulliver's Travels," "Mein Kampf," "The Republic," and "Meno."
---
Follow Stories Like This
Get the Monitor stories you care about delivered to your inbox.