5 books coming out in 2011 that you absolutely have to read
(Read article summary)
There are plenty of good books in the pipeline for early 2011, but these are among the very best.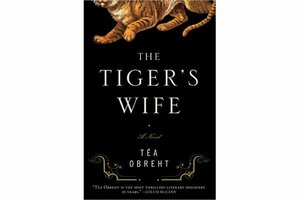 The best thing about the new year is new books. So now, when all that eggnog is finally flushed out of your system, head to your bookstore. These are, in my not-so-humble opinion, five of the best of early 2011. Happy reading!
1. The Tiger's Wife, by Téa Obreht
"The Tiger's Wife" (Random House, 352 pp.) is the book that everybody will be talking about this season, not just because Téa Obreht writes like a dream (think Arundhati Roy meets Marilynne Robinson) but because she seems about 15 (read: 25) years old. Though her skill-to-age ratio may make you want to toss your laptop against a wall (no, you will never be this good), you should read her debut novel anyway. Obreht is a master storyteller, and with "The Tiger's Wife" she weaves an enchanting tale that combines the sharply contemporary with an ethereal, fairy tale quality. In a story set in the present-day Balkans, Natalia, a young doctor, receives word that her grandfather has died far from home in a town that no one in Natalia's family seems to have heard of. Determined to unravel the circumstances surrounding his death, Natalia sets off on a journey that leads her back through the stories he told her over the years. As two stories in particular – those of the deathless man and the tiger's wife – lead her closer to answers, they take her further from the rational man that was her grandfather. (To be released in March)
2. Townie: A Memoir, by Andres Dubus III
---
Follow Stories Like This
Get the Monitor stories you care about delivered to your inbox.