"Millennium" mystery: Will there be a fourth Stieg Larsson novel – or not?
(Read article summary)
Stieg Larsson's partner says in a memoir that she will finish his fourth "Millennium" book, but his publisher says no.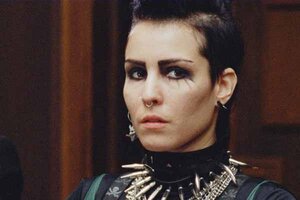 Courtesy of Music Box Films
Stieg Larsson fans may be feeling very confused. First, they were assured that they hadn't heard the last of fictive protagonist Lisbeth Salander. Eva Gabrielsson, longtime partner of the Swedish journalist-turned-crime novelist, said she plans to finish the fourth novel in the "Millennium" series that Mr. Larsson left uncompleted upon his death.
In a new memoir released this week in France, Norway, and Sweden, Ms. Gabrielsson shared her plans to secure the rights to complete Larsson's fourth novel. According to Agence France-Presse, which obtained a copy of the memoir, Larsson had already written some 200 pages of the fourth novel before he died unexpectedly in 2004.
In fact, Larsson died before any of his three "Millennium" novels featuring Salander – "The Girl with the Dragon Tattoo," "The Girl who Played with Fire," and "The Girl who Kicked the Hornet's Nest" – were published. His books have since become an international phenomenon. More than 46 million copies have sold worldwide, the books have been translated into 44 languages, and a Hollywood adaptation of his first book, starring Daniel Craig, is in the works.
---