Roger Rosenblatt: How do you teach writing?
(Read article summary)
Award-winning writer Roger Rosenblatt explains what he has learned about teaching his craft.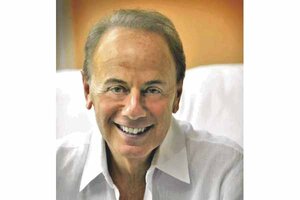 Roger Rosenblatt is known as a writer. Very well known, in fact. His essays for Time and PBS have earned him two George Polk awards, a Peabody, and an Emmy. He is also the author of six plays and 14 books. But Rosenblatt has another less highly publicized career. He is also a teacher of writing at Stony Brook University in Southampton, N.Y. His new book "Unless It Moves the Human Heart" reports on one semester in his "Writing Everything" class. I recently had the chance to ask Rosenblatt about his book and what it means to be a teacher of writing.
So many "experts" insist that writing cannot be taught. But you believe that it can. What gave you that conviction?
One idea started a number of others. [It began with] my need to break my students of the habit of apologizing for what they were writing. Whether it was a story or a novel or a novella or an essay they tended to start with either the apologetic desire to tell you what they were going to write about or by hesitating before they launched into it. This involves two mistakes: (a) Nobody's interested in having you tell them what the subject is going to be. And (b) by the time they get into it they've already developed a kind of stutter step that makes their writing feel kind of clogged and unnatural.
---