Borders moves toward bankruptcy: Are bookstores going away?
(Read article summary)
As Borders stumbles, dramatic declines are predicted for bricks-and-mortar bookstores.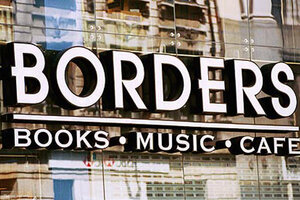 Did e-books bankrupt Borders?
New digital technology hits the market, allowing people to consume media on their own personal digital device. The trend sweeps the country – wiping out traditional bricks-and-mortar retailers as it grows.
Sound familiar?
It happened in the early 2000s when MP3 technology changed the way Americans listened to music, shuttering record store chains across the country. (Tower Records filed for bankruptcy in 2006).
And it's happening again, as Borders Group Inc. announced it is filing for bankruptcy as early as Monday.
The rising popularity of e-books and stiff competition from online retailers like Amazon spelled declining annual revenues for Borders.
Borders is the third largest bookstore chain in the US, one of the original big box superstores that offered consumers thousands of books and music CDs in a single location.
After failing to get publishers on board with a plan that would have restructured Borders' more than $500 million in debt, Borders is turning to Chapter 11 bankruptcy protection, according to The Wall Street Journal.
---