Why feminism has been good for romance
(Read article summary)
Stephanie Coontz, author of "A Strange Stirring," reminds women and men why both should be celebrating feminism this Valentine's Day.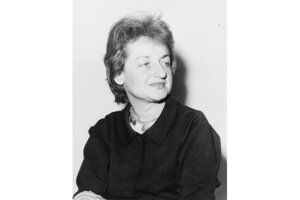 Thanks to Betty Friedan and her seminal book, many Americans' romantic relationships are more fulfilling, loving, and meaningful this Valentine's Day than they might have been 50 years ago.
Indeed, though many people today haven't read "The Feminine Mystique," they are enjoying the fruits of the women's movement that it helped spark: economic independence, legal rights, elevated social status, and more fulfilling relationships.
So says marriage expert Stephanie Coontz, who chronicles the stories of a generation of women whose lives were changed by "The Feminine Mystique," in her new book, A Strange Stirring: The Feminine Mystique and American Women at the Dawn of the 1960s.
Nearly half a century after Betty Friedan's revolutionary book hit the market, I spoke with Ms. Coontz about how far we've come, how marriage has changed, where Friedan was wrong, and what Friedan would have thought about Valenine's Day.
What would Betty Friedan think of Valentine's Day?
She would certainly hate the way it has been commercialized. One of the most powerful chapters of "The Feminine Mystique" – and one that still rings true to readers today – is called "The Sexual Sell." Friedan used the internal memos of motivational research firms to expose how marketers fan our insecurities, to persuade us that buying things will satisfy our hunger for meaningful relationships and meaningful work. She would be very critical of the ads claiming that you can solidify your relationship by buying the right gift or find happiness by receiving such a gift.
---