Scott Brown memoir details childhood abuse and a life of hardship
(Read article summary)
Scott Brown's new autobiography "Against All Odds" may add to his "political intrigue."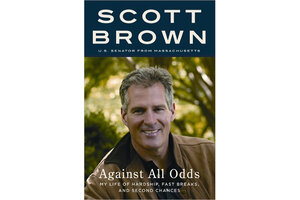 If you thought the Cosmo centerfold was edgy, hold on tight, Senator Scott Brown's got more to share. Another political bombshell is set to hit a bookshelf near you.
Senator Brown's new autobiography "Against All Odds," reveals a childhood of divorced parents, frequent moves, shoplifting, battering abuse at the hands of drunken stepfathers, and sexual assault by a summer camp counselor.
"The vivid recollections of the Republican senator from Massachusetts portray a world of drunken parents and scarce means, a life spent moving from house to house," reports the Boston Globe.
The book, scheduled for release Monday, after Brown appears in a "60 Minutes" segment Sunday night, reveals new insights into the shaping of Brown's surprising trajectory from troubled youth to basketball all-star, to law school, to Cosmo centerfold and partying, to the US Senate.
Brown shocked the country when he catapulted from powerless state senator to the Senate a year ago, winning a seat held for decades by the late Democrat Edward M. Kennedy – a stunning Republican victory in the bluest of blue states, Massachusetts.
"Against All Odds" also marks the first time Brown publicly exposes details of his sexual assault. It happened the summer after fourth grade, when he was 10 years old. He was at a Christian summer camp in Cape Code, he writes, when he had to go to the camp infirmary. A camp counselor followed him inside the bathroom.
---