Facebook founder Mark Zuckerberg becomes a comic book hero
(Read article summary)
Mark Zuckerberg – the king of social networking – will now star in a comic book.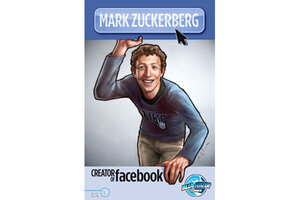 Wham, bam, pow! Move over Superman, Facebook's Mark Zuckerberg is the new comic book hero.
Most guys his age are only reading comic books, but this 26-year-old accidental entrepreneur is already the king of social networking, has a book and Oscar-nominated movie about him, was named Time's magazine's Person of the Year, is the youngest billionaire on the planet – and is now the subject of a glossy comic book.
"Mark Zuckerberg: Creator of Facebook" is the 48-paged saga of the self-made billionaire. Publisher Bluewater Productions promises "a more balanced portrayal of Zuckerberg" than the not-so-sympathetic movie "The Social Network."
Former staff reporter for the Philadelphia Daily News Jerome Maida and illustrator Sal Field collaborated on the biographical comic that hit shelves Wednesday – just in time to take advantage of the Oscar-buzz swirling around "The Social Network."
"This is a fascinating story," Maida said. "I enjoyed researching it because it's extremely compelling. Think about it. Mark Zuckerberg is the youngest billionaire on the planet and created something that has already had a profound impact on the world. Yet hardly anyone knows much about him."
"Rightly or wrongly, Mark dealt harshly with some people on his way to where he is today," Maida said. "As we see, he left many people feeling betrayed. I try my best to be fair here. No one is totally innocent in this story."
---
Follow Stories Like This
Get the Monitor stories you care about delivered to your inbox.