Catherine of Aragon, One 'Quietly Fierce' Queen
(Read article summary)
In an immensely readable new biography of Catherine of Aragon, Giles Tremlett tells the story of the Spanish queen who changed the course of English history.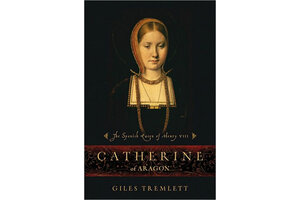 King Henry VIII's first queen was anything but a 16th-century feminist. She firmly believed in two things: the tenets of the Catholic Church and the supremacy of men.
But then the king met a hot young thing and demanded a divorce. Catherine of Aragon had to choose between the wishes of two masters: her husband and her religion. She said no to the man wearing the crown, setting off a battle whose repercussions – including a rift in the church she loved so deeply – remain with us today.
Giles Tremlett, a reporter for a British newspaper who's based in Madrid, tells the Spanish queen's story in an immensely readable new biography called "Catherine of Aragon." In an interview this week, I asked him about the foreign queen who gained the affections of a nation by courageously standing up for herself and her beliefs.

Q: Why do we still care about the Tudors, especially Henry VIII, his six wives, and his children who became monarchs themselves?
There's a very strong connection with the characters. Henry himself is such a massively larger-than-life figure, someone who did everything in multitudes, including wives.
We have a king who is influenced by women, who then goes on to be the father of the first two female monarchs in England, the first two queens regnant. You have a powerful current of female history: women who were power players.
---