In 'Tweets from Tahrir,' Twitter posts tell the story of Egypt's revolution
(Read article summary)
'Tweets from Tahrir,' a book of Egyptian Twitter posts, records history in a novel way.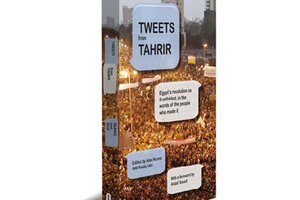 Remember when newspapers were the first draft of history? Now that title goes to something new: the status update.
That's the message we get from "Tweets from Tahrir," a book collecting comments and photographs posted to Twitter during last month's revolution in Egypt. Mediabistro reported that the April publication from OR Books will contain "a selection of key tweets in a compelling, fast-paced narrative, allowing the story of the uprising to be told directly by the people in Cairo's Tahrir Square." The New York Times says the book appears to be the first of its kind.
The gimmick could work. Reading Twitter updates in real time when dramatic news breaks does give a sense of being in the midst of a crowd. There's no reason collecting curated tweets would be that different from editing on-the-spot interviews into a narrative.
---