Is it right to revise the Bible?
(Read article summary)
"The New American Bible" is not the first Catholic bible to be updated to reflect changes in the way English is understood, but the latest revisions are controversial.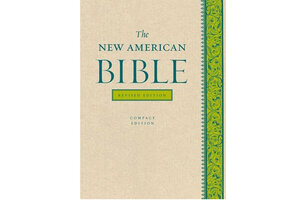 When NewSouth Books released an updated version of "Huckleberry Finn," replacing the word "nigger" with "slave," readers across the country were outraged.
Today, the United States Conference of Catholic Bishops releases "The New American Bible," a revised edition of the Catholic Bible, replacing, among other phrases, "the virgin shall be with child," with "the young woman shall be with child," and "booty" with "spoils of war."
Certainly, it's not the first time the Bible has been updated to reflect the shifting meaning of the English language. But this latest version contains some bold changes that traditionalists say toes the line between a refined translation and altered meaning. It's a move that's bothered some, but so far objections are nowhere near the uproar raised by the changes made to "Huckleberry Finn" earlier this year.
The best nonfiction titles of 2010
When a revised edition of "Huckleberry Finn" was published, the move was denounced by scholars, teachers, and writers as 'censorship' and 'a mockery of the original story.'
"Trying to erase the word from our culture is profoundly, profoundly wrong," said Randall Kennedy, a Harvard Law School professor, in a BBC interview.
---