Teach for America at work in St. Louis
(Read article summary)
St. Louis schools working with Teach for America see a bump in test scores.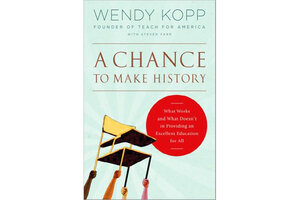 As a recent college grad prepping to make the adjustment from dorms and homework to elementary education, I was eager to get my hands on a copy of A Chance to Make History. In her book, Wendy Kopp, founder and chief executive of Teach For America, shares what has worked in providing an excellent education for all, and what has fallen short.
I was particularly fascinated by the data Kopp provided regarding rising test scores in underprivileged regions that are staffed with TFA corps members and alumni. She mentions a public enrollment school in New York that in two years saw a class go from only 37 percent of students scoring proficient in reading to 83 percent.
In Washington DC between 2007 and 2010 the number of secondary students proficient in English increased by 14 percent. In the wake of Katrina, New Orleans has seen some of the most tremendous improvement, "on several of the campuses taken over by the Recovery School District, the growth in the percentage of fourth graders scoring basic or above on state English and language arts assessment has exceeded the statewide growth rate at least tenfold… Two thirds of the campuses serving eighth graders saw improvements between three and six times the state average in English language arts."
---