Bringing new life to "Mildred Pierce"
(Read article summary)
How did Jon Raymond, who adapted noir classic "Mildred Pierce" for HBO's new miniseries, get past the memory of Joan Crawford's iconic 1945 performance?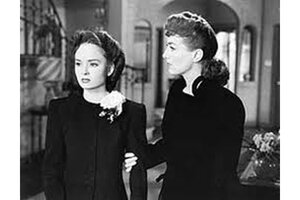 You'd think the shoulder-padded specter of Joan Crawford would haunt anyone who tried to adapt the 1941 novel "Mildred Pierce," which inspired one of film noir's most memorable performances. Crawford's Oscar-winning turn as a sexy, selfless, and vulnerable mother is still moving and powerful, and not just because it features a slapping scene for the ages.
Oregon screenwriter Jon Raymond, who adapted the book for the HBO miniseries that debuts this weekend, managed to avoid the Crawford connection entirely. He watched the first few moments of the 1945 movie, hated its structure (it foreshadows its ending in the first scene, unlike the novel) and turned it off. He never even got to the scenes that earned still-living actress Ann Blyth an Oscar nomination for her performance as Veda, Mildred's viciously ungrateful daughter.
---