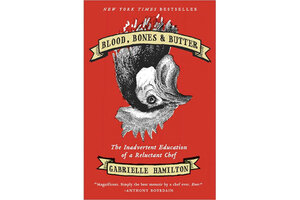 Food memoirs have become rather predictable. Most seem to blend quaintness with family recipes, a passion for flavors and words, and often a love story evoked by the writer's skill in the kitchen. Gabrielle Hamilton, owner and chef of Prune in New York City, has written a food memoir that defies this kind of cuteness. Instead Blood, Bones and Butter delivers the story of a life shaped by food with the intensity of a blast of hot air from a 500 degree F. oven.
Hamilton does share family memories centered on food, but these simmer with an underlying fury. There is a slow realization that food is central to her life, but this comes almost as an afterthought. There is love, of various kinds, peppered with ambiguity, dissonance, and loss. And there are no recipes.
Instead Hamilton includes jarring details so casually that they rattle like the clatter of kitchen plates crashing to the floor. But there is also delicious prose and there are tender images such as Hamilton holding her nursing child. Mostly "Blood, Bones and Butter" vibrates with such a relentless creative drive that its moments of resolution bring the reader immense relief.
Hamilton is the youngest of five. Her French mother, a former ballerina, was a talented cook who wore black eyeliner and high heels every day and kept a well-scrubbed and organized kitchen. She took Hamilton with her everywhere – to pick up milk in her antique Mercedes-Benz, to forage for chanterelles in the forest, and once even on a vacation to the Greek islands. Hamilton's father was a set designer for large productions, including the Ringling Bros. and Barnum & Bailey Circus, who recruited his band of children as extra sets of hands when deadlines pressed down. They lived in a huge rambling house nicknamed "the ruins" on a country road in New Jersey and threw themed parties and hosted lamb roasts that drew hundreds of guests.
---