Will readers accept ads in exchange for a cheaper Kindle?
(Read article summary)
Amazon's new Kindle with Special Offers costs $25 less but also exposes readers to advertising.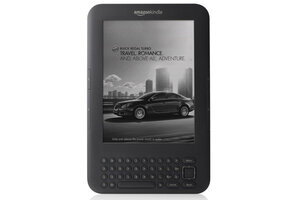 AP
Would you put up with ads on your digital device if it meant it a lower price tag?
With its new Kindle with Special Offers, Amazon is betting you will. Amazon announced yesterday the upcoming release of its newest Kindle, an ad-supported e-reader that, at $114, is $25 less than the standard $139.
Amazon has kept lowering the price of the Kindle since it released the first version at $399 in 2007. This is the first price reduction that includes ads on the e-reader.
10 most frequently challenged library books of 2010
"We're working hard to make sure that anyone who wants a Kindle can afford one," said Amazon founder and CEO Jeff Bezos, in a statement.
Amazon is also working hard to compete with the juggernaut of eye-catching iPad ads and increasing competition from other e-readers and computer tablets.
At 60 percent of the e-book market, Amazon still dominates the field, but the iPad, with all its bells and whistles, threatens to displace the e-reader king, and Amazon is pushing hard to retain its top spot. It thinks the ad-supported Kindle is the answer.
The ads would appear on the device's screensaver and the bottom of the home screen; ads would not appear within e-books themselves.
---