'Three Cups of Tea': Is the publishing industry to blame for fabricated memoirs?
(Read article summary)
"In the age of Oprah and celebrity reality television ... everyone wants to be a spokesperson for some horrible incident or ... tragedy," says one book agent of the "Three Cups of Tea" controversy.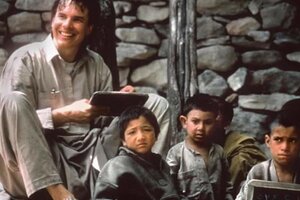 When news emerged Sunday that the veracity of parts of Greg Mortenson's memoir, "Three Cups of Tea," was now in question, it became the latest in a growing list of falsified memoirs, an embarrassment that's been of chronic concern to the publishing industry of late.
First there was James Frey, the most famous of the recent fabricators. When he admitted his memoir, "A Million Little Pieces," was embellished – including a critical section in which he detailed a dramatic account of hitting a police officer with his car while high on crack – he opened the floodgates to a barrage of censure from his readers, the media, and of course, Oprah Winfrey, who lambasted him on her show. Still, Frey's career continues, his books get more press than they ever before, and his young adult novel "I Am Number Four" was released as a film earlier this week.
---