Kindle users can borrow library e-books – is that a good thing?
(Read article summary)
Amazon's announcement that Kindle users can borrow library e-books may be good news for readers and libraries – but publishers could be the losers.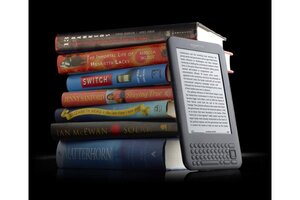 Not everyone is thrilled about Amazon's big news.
As the king of the e-book market, Amazon's announcement Wednesday that Kindle owners will be able to borrow e-books from 11,000 libraries around the United States later this year is sure to have major repercussions.
The new feature, which Amazon is launching in partnership with OverDrive, a major supplier of ebooks and other technologies to libraries, will strengthen Amazon's position in the e-book market, potentially leading to more Kindle sales. And it's good news for e-reader owners, all of whom will soon be able to borrow digital books on their devices for free (Barnes & Noble's Nook and Sony's Reader already feature library-lending abilities).
10 most frequently challenged library books of 2010
But while Amazon's announcement was welcome news to readers, libraries, and the digital reading marketplace as a whole, publishers seemed to greet the news with trepidation.
---