"Game of Thrones," episode 2: Will women be tuning in?
(Read article summary)
A New York Times review of the first episode sparked a conflagration by suggesting that most women wouldn't naturally like the series.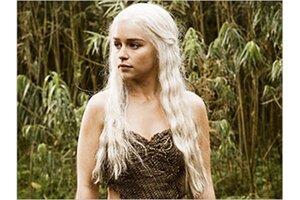 George R.R. Martin fans have much to be happy about this month. For one thing, their long wait for the next book in their beloved "Song of Ice and Fire" series is about to come to an end. ("A Dance with Dragons," book 5 in the series, goes on sale this summer.)
For another, HBO's extravagant (162 speaking parts) "Game of Thrones" series, a 10-part televised version of the first book in the "Song of Ice and Fire" cycle, premiered last Sunday night, and so far the TV series has received largely positive reviews.
However, it seems that about half of Martin's fans spent the week on the warpath. That would be the female half.
---