Will and Kate publishing frenzy
(Read article summary)
With everything from comic books to bodice rippers, publishers are hoping to cash in on Will and Kate's big day.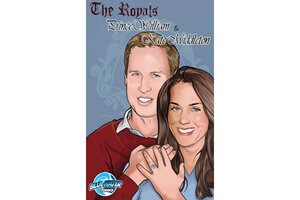 As Will and Kate anticipate wedding bells on Friday, publishers in the US and UK are looking forward to another sound – Ka-Ching!
The royal wedding has inspired a royal rush of Will-and-Kate-themed literature, from classic photo books and biographies to Will-and-Kate-inspired comic books and, yes, bodice rippers.
First there was the wave of insta-books that hit the shelves late last year when Prince William and Kate Middleton announced their engagement. The Sun's royal correspondent James Clench finished his book, "William & Kate: A Royal Love Story," in about 48 hours.
Also part of the insta-wave were "William and Kate: Celebrating a Royal Engagement," by Robin Nunn, and "William and Kate: A Royal Love Story," by Christopher Andersen.
So last year.
Fervent royals fans caught up in royal wedding fever will want to snap up the new comic book based on the lives of Will and Kate, due to hit shelves Wednesday. "The Royals: Prince William & Kate Middleton," serves up a comic version of their eight-year romance.
---