Harper Lee speaks – or not?
(Read article summary)
"To Kill a Mockingbird" author Harper Lee may – or may not – have cooperated with a new biography.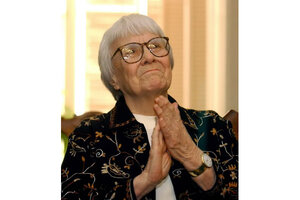 Robert Sutton/The Tuscaloosa News/AP
Harper Lee has broken her silence – sort of.
At first, fans rejoined to hear that the author of "To Kill A Mockingbird" had cooperated with a former Chicago Tribune reporter for an upcoming book. For decades, Lee has stayed out of the public eye, living a quiet life in Alabama and politely refusing to discuss either her Pulitzer-Prize winning publication or herself. (She hasn't given a public interview in 45 years, according to The Atlantic.)
But then Lee, 85, denied the reports of cooperation. She announced in a rare statement through her sister Alice's law firm that she had not "authorized such a book" or "willingly participated" in one.
But that wasn't the end of it. Penguin Press, which will publish "The Mockingbird Next Door: Life With Harper Lee," by Marja Mills, countered with a statement of its own. The publishers released a letter prepared by Mills earlier this year and signed by 99-year-old Alice Lee, according to the AP. It read:
---