Christopher Hitchens on Osama bin Laden: "a near-flawless personification" of evil
(Read article summary)
What does America's best-known atheist think about the death of Osama bin Laden?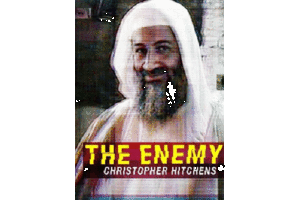 What would America's best-known atheist and the author of several controversial books – including "God Is Not Great: How Religion Poisons Everything," which contends that organized religion is "violent, irrational, intolerant, allied to racism and tribalism and bigotry, invested in ignorance and hostile to free inquiry, contemptuous of women and coercive toward children" – think about the death of Osama bin Laden?
Pretty much what most Americans thought, it turns out.
Amazon unveiled Christopher Hitchens's "The Enemy," an essay available as a Kindle Single reflecting on 9/11, Islamic terrorism, counterterrorism, and the news of Mr. bin Laden's death in the now-famous Abbottabad, Pakistan, compound.
Osama bin Laden: 7 books that offer insight
For a man known for his excoriating critiques, confrontational style, and controversial editorials, Mr. Hitchens offers surprisingly conventional commentary in "The Enemy."
Though there are no surprises in his essay, Hitchens takes readers along through his own thought processes on the meaning of bin Laden and his death. The effect is sometimes contradictory, usually thought-provoking, and for those familiar with Hitchens, generally unsurprising.
"I thought then, and I think now, that Osama bin Laden was a near-flawless personification of the mentality of a real force: the force of Islamic jihad," writes Hitchens. "And I also thought, and think now, that this force absolutely deserves to be called evil, and that the recent decapitation of its most notorious demagogue and organizer is to be welcomed without reserve.
---