A slap at Philip Roth – or a dig at American writers?
(Read article summary)
A Booker International Prize judge quits when the award goes to Philip Roth.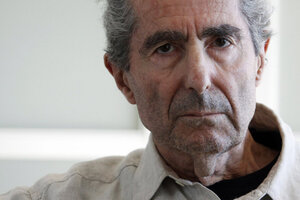 Eric Thayer/Reuters
Is the Booker International Prize controversy a dig at American writers?
Sure, literary prizes often stir controversy, but this year's Man Booker International Prize incited a firestorm when a judge withdrew from the judging panel over its decision to award American Philip Roth the fourth Man Booker Prize and $100,000 award.
Author and publisher Carmen Callil retired from the panel Wednesday following its announcement that Mr. Roth, cited as the "most decorated living American writer," would be the prize's fourth recipient.
10 novels in translation you should know
"I don't rate him as a writer at all," Ms. Callil told the Guardian newspaper. "I made it clear that I wouldn't have put him on the longlist, so I was amazed when he stayed there." She went on to say that Roth "goes on and on and on about the same subject in almost every single book. It's as though he's sitting on your face and you can't breathe."
Her comments immediately triggered an uproar, and added another chapter of controversy to a historical debate over international literary prizes and the merits (or demerits) of American writers.
---