Pottermore: the secret is out
(Read article summary)
Pottermore is a free, collaborative website that will offer new material about Harry Potter and exclusive access to Harry Potter e-books.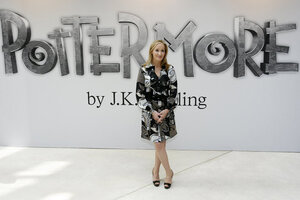 Akira Suemori/AP
Looks like JK Rowling had the last laugh.
In the hours leading up to the anticipated announcement, scores of news organizations published "leaked" reports revealing that Pottermore would be an online Harry Potter game and global treasure hunt.
So it was an unexpected surprise today when Ms. Rowling revealed the true nature of Pottermore: Pottermore is a free, collaborative website that will offer readers an online reading experience with extensive new material about the world of Potter. The site will launch in October in English, French, Italian, German and Spanish. (More languages will eventually follow.)
"I'm thrilled to say I'm now in a position to give you something unique: an online reading experience unlike any other. It's called Pottermore," Rowling said in her YouTube announcement. "Pottermore will be where fans of any age can share, participate in, and rediscover stories…. I'll be joining in, too, because I'll be sharing additional information I've been hoarding for years about the world of Harry Potter."
---
Follow Stories Like This
Get the Monitor stories you care about delivered to your inbox.