What if Princess Diana were still alive?
(Read article summary)
Novelist Monica Ali – and others – indulge in speculation over alternate endings to the story of the Princess of Wales.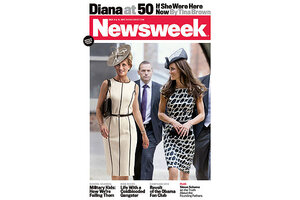 What if?
It's a question we're not supposed to ask ourselves (quash useless regrets before they grow, says mother). But it's also a question that makes for an irresistible novel.
As in, what if Princess Diana hadn't died in that tragic car accident in Paris?
That's the premise of Monica Ali's new novel, "Untold Story," and it's already raising eyebrows.
In it, Diana fakes her own death in the famous car crash, later jumps off her boyfriend's yacht, swims to a Brazilian beach, has a bit of plastic surgery, then finds her way to a little American town called Kensington (that's right) and settles into a quiet, ordinary, suburban life as a tall, slim brunette named Lydia.
Tantalizing, sure, but here's another what if. What if Diana were alive? What would she have thought of this? Does it make you just a wee bit squeamish?
Ms. Ali, high-brow Brit author of Booker-nominated "Brick Lane," is facing heat on this, her most daring novel. It's been called low-brow, exploitative, in poor taste.
---