The little woman behind a very big war
(Read article summary)
A Q&A with David S. Reynolds, the author of "Mightier than the Sword: Uncle Tom's Cabin and the Battle for America," about Harriet Beecher Stowe's influence on the Civil War.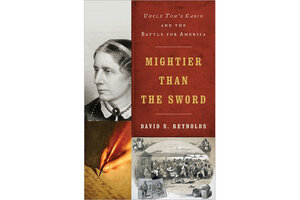 According to legend, President Lincoln met an author named Harriet Beecher Stowe and declared: "So you are the little woman who wrote the book that started this great war."
It's not clear whether Lincoln ever said such a thing. Mythical or not, the words have that ring of truth like so many historical misquotes. But if the president didn't say it, he should have.
Stowe's greatest book, "Uncle Tom's Cabin," blended gripping narrative, humor and striking characters to expose the inhumanity of slavery. Many Americans would never forget the novel, which remained influential and tremendously popular for decades.
The novel later lost its reputation as a literary masterpiece, and the title character's name became an epithet for African-Americans who cozied up to white people. History left Stowe behind too, leaving photos of a stern-looking woman who looks like the last person you'd want to sit next to at a dinner party lest she start lecturing you about a humanitarian crisis somewhere.
That image misses the real Harriet Beecher Stowe, a woman who considered slavery a moral evil but also had a sense of humor. In fact, her daughter said they spent a delightful evening with President Lincoln, trying not to bust out laughing the entire time. (It's not clear exactly what was so funny, but it probably had more to do with presidential jokes than, say, a White House whoopie cushion.)
---