"A Dance with Dragons" leaked early – and George R.R. Martin is irate
(Read article summary)
What does Amazon Germany's early release of the next book in the "A Song of Fire and Ice" series mean for fans?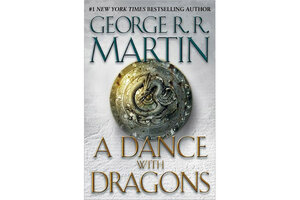 It's a dream come true for some readers – but a complete nightmare for George R. R. Martin.
According to his blog, Amazon Germany shipped out 180 copies of Martin's latest book, "A Dance with Dragons" (the fifth book in his epic fantasy "A Song of Fire and Ice" series) weeks before the official release date of July 12. The series was already wildly popular with fantasy enthusiasts – many of whom have been waiting impatiently for six years now for the release of this latest series installment – but the books have also benefited from a fresh surge of popularity due to the recent adaptation of "A Game of Thrones" (Book No. 1 in the series) into an HBO TV series starring Sean Bean.
It would be putting it mildly to say that Martin is less than thrilled about the early release of his book. Since he is notorious for his intricate plots twists – including unexpectedly killing off some major characters and then bringing other supposedly dead characters back to life – spoilers for "A Dance with Dragons" could damage the mystique and possibly sales of the book. Both real and fake spoilers are flooding the Internet on fan sites already.
---