'Harry Potter' over the years
(Read article summary)
A retrospective look at the success of 'Harry Potter' over the last 14 years.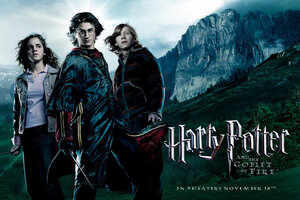 In 1997 Bill Clinton had just begun his second term, Mike Tyson bit Evander Holyfield's ear in a boxing match, and Leonardo DiCaprio won hearts as Jack Dawson in 'Titanic.'
It was also the year that a single mom published, on a tight income and benefits, her first book. 'Harry Potter and the Sorcerer's Stone' would soon become one of the best-selling books of modern times and JK Rowling one of the world's richest women.
Almost a decade and a half and seven books, eight films, a theme park, and tens of thousands of adoring fans later, we're about to witness the final chapter in our beloved boy wizard's story: 'Harry Potter and the Deathly Hallows: Part 2' opens in theaters Friday.

No one thought she would survive a cutthroat publishing marketplace back in 1995, when Rowling penned 'Harry Potter and the Sorcerer's Stone' in local cafes whenever she could get her daughter to sleep. Some 12 London publishers rejected Rowling's manuscript about a vulnerable boy wizard battling dark forces before one finally accepted it. Independent publisher Bloomsbury accepted Rowling's manuscript for a mere $3,750 advance and published an initial run of only 500 copies.

Sales were sluggish, but picked up fast when 'Sorcerer's Stone' won two awards and the story went viral. In 1998, 'Harry Potter and the Chamber of Secrets' was published by Bloomsbury and went straight into the No. 1 slot on the BookTrack bestseller list. It was also the year that Warner Bros. secured film rights to the first two books for a seven-figure sum. Things began heating up.
---