Is this fall's mystery book a Bernie Madoff tell-all?
(Read article summary)
A book currently known as "Untitled" by "Anonymous" seems likely to be an insider's look at the downfall of Bernie Madoff.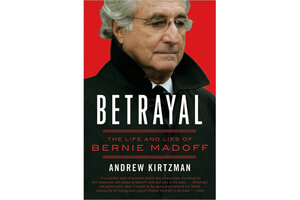 A mysterious email has been going around to booksellers this week.
According to The New York Times, publishers Little, Brown & Co. have been advertising a book billed as "Untitled" by "Anonymous." The book has a November release date, a strict no-early-sales embargo, and lots of promised media coverage. The only clue offered as to its contents was that it is ""the inside story of life with one of the most controversial figures of our time."
Booksellers were stumped – and annoyed. Who wants to take a shot in the dark by ordering copies of a book with an unknown author and an unknown subject and risk being left with hundreds of unsold books? On the other hand, no one wants to play it too safe and end up passing on a bestseller.
Yesterday a tantalizing piece of information was leaked. One of the book's two authors is listed as Catherine Hooper, otherwise known as the fiancée of Bernie Madoff's surviving estranged son Andrew. Suddenly, the book's content seemed much less mysterious.
---